How to use
Discover more
Recipes
S&B takes the stress out of recreating authentic Japanese dishes at home.

Add some bite with Wasabi



Easy Japanese with Golden Curry


S&B Japanese Curries are mild, rich and smooth.
Japanese curry base is thick and brown, with a slightly sweet, mild flavour and can be easily distinguished in the first bite. Soon after, you can feel the spices on your taste buds. It is often smooth and thick which makes it unique and flavourful.
Made in Japan
Launched in 1923*
Made with signature curry powder
Contains no meat products
* S&B Foods Inc. launched the first curry powder authentically made in Japan.
S&B Wasabi has authentic flavour, pungency and aroma.
Unlike cayenne or black pepper, wasabi's spiciness and fragrance are unique with a lively tingling in the nose. Wasabi's punch counters the scent of raw fish and compliments its flavour with a light, fresh taste. Simply squeeze out to enjoy the authentic taste of wasabi to get extra punch at any time.
Made in Japan
First Japanese wasabi in a tube
No.1 best-selling in Japan and Australia*
* Japan: No.1 Wasabi Tube *INTAGE SRI + Spice (Wasabi Tube) Market Cumulative Sales of Japan from May 2021 to Apr 2023. Australia: Source: Nielsen Scan Data Asian Foods, Ingredients, Wasabi, value sales, MAT to 18 Apr 2023.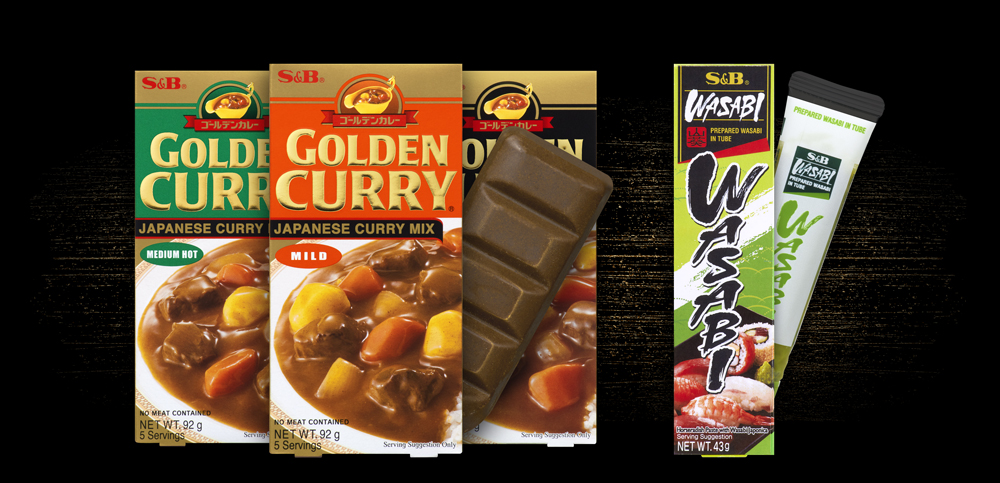 Simple yet delicious Japanese cuisine.

Explore some of our authentic Japanese meal ideas below and get cooking!
Quick & Easy
One-bowl
Soup
Meat-free